House and FirE: Poems
By Maria Hummel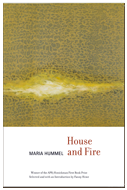 House and Fire
Winner - 2013 APR/Honickman Prize
Selected by Fanny Howe
Copper Canyon Press
October 2013
ISBN 9780971898127
Order it through your
Click here for video: Maria reads from House and Fire and Motherland.
Synopsis
"A child is very ill; there is a hospital. . . . The subject is as basic as a bowl and a nail, wood and a house, and a house on fire."
—Fanny Howe, from the introduction
House and Fire is a mother's love-song to her stricken young son, written over the years of his hospitalizations for an acute immune disorder. Hummel's eerie, radiant lyrics and stories evoke the pediatric ward, California life, and the immortal, endangered world of childhood.
Advance Commentary
These poems come from a deep well of experience that is translated, right in front of us, into hard-won craft and exacting lyricism. At one level, this book registers the story of a beloved child's illness. But at a deeper level, these poems are a narrative of language itself: of its vigil, its journey, its ability –even in dark times – to shelter the frailty of the body with its own radiant strengths. This is a superb and memorable collection.
-Eavan Boland
There is real wisdom in Maria Hummel's "House and Fire," a burnished understanding of self and parenthood, what it means to be mortal through the illness of a loved one. These intricately structured, deeply moving, alchemical poems transform sorrow into something beautiful and true. Her startling use of tone and imagery is both precise and uncanny, as if the terrors of experience can be redeemed through the conditions of music and imagination. Here is a young poet in full command of her gifts. I cannot think of a more powerful first book.
-Stuart Dischell
In this particular shadowland, the poet creates a new language from the flames of the unspeakable, the unthinkable, the unknowable. Hummel's is that rare art of lyrical distillation that gives us meaning and sanity in a time of terror. House and Fire is crushing and remarkable.
-Michael McGriff