Motherland: A Novel
By Maria Hummel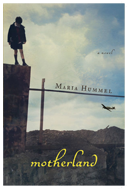 Motherland
A Novel
Counterpoint Press
January 2014
ISBN 978-1619022379
Order through your
local independent, B&N, or Amazon
Click here for video: Maria reads from Motherland and House and Fire.
Author's Note
Motherland is inspired by stories from my father's German childhood, and letters between my grandparents that were hidden in an attic wall for fifty years. It is my attempt to reckon with the paradox of my father—a product of my grandparents' fiercely protective love and their status as Mitläufer, Germans who "went along" with Nazism, first reaping its benefits and later its consequences.
Synopsis
This page-turning novel focuses on the Kappus family: Frank is a reconstructive surgeon who lost his beloved wife in childbirth and two months later married a young woman who must look after the baby and his two grieving sons when he is drafted into medical military service. Alone in the house, Liesl must attempt to keep the children fed with dwindling food supplies, safe from the constant Allied air attacks, and protected against the swell of desperate refugees flooding their town. When one child begins to mentally unravel, Liesl must discover the source of the boy's infirmity or lose him forever to Hadamar, the infamous hospital for "unfit" children. The novel bears witness to the shame and courage of Third Reich families during the devastating last days of the war, as each family member's fateful choices lead them deeper into questions of complicity and innocence, to the novel's heartbreaking and unforgettable conclusion.
Advance Commentary
"This is a tender, profound novel of a young woman who steps into a shattered German family and makes it her own. The radiance of her sacrifice, and of Hummel's storytelling, illuminates this dark chapter of human history with heart and revelation." —Adam Johnson, The Orphan Master's Son, Winner of the Pulitzer Prize
"In stunning, pitch-perfect prose, Maria Hummel gives us a deeply moving portrait of lives on the wrong side of history. This isn't just another World War II novel; it's a spectacular story about what it means to love and hope in the most difficult times." —Jesmyn Ward, Salvage the Bones, Winner of the National Book Award
"Through the intimate story of one German family at the end of the Second World War, Motherland weaves a universal tale of moral obligation, wartime complicity, and the lengths we will go to protect those we love. From the bare bones of her own family's history, Maria Hummel has built a visceral, magnificent creature." —Anthony Marra, A Constellation of Vital Phenomena
"A courageous and unsettling novel arising from the questions that Maria Hummel had about her grandparents' lives during the Third Reich. How much did they know? How did they survive?" —Ursula Hegi, Stones from the River
"Fear, grief, and the will to survive fuse in this beautiful novel about the inner life of a German family in the final months of World War II… The humiliations and guilt that each family member endures for the others are described with grace and humanity. While stunningly intimate, Motherland is expansive in feeling and scope. Extending beyond a simple historical drama, this book is a reminder of the reach of love, how it can blind, and how it can heal." —Publishers Weekly, Starred Review
"Maria Hummel draws upon her family history to create a spellbinding novel that examines the many facets of motherhood, during a time of war and beyond. Motherland is a vivid, heart-stopping depiction of a German family's struggle to stay together during the devastating Allied bombing of their small town. You won't soon forget these characters or the stories they have to tell." —Susan Sherman, The Little Russian