wilderness run: A Novel
By Maria Hummel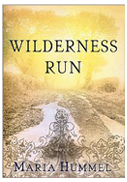 Wilderness Run
A Novel
St. Martin's Press
September 2002
ISBN 978-0312287573
Alternate Selection of the Doubleday Literary Guild
Synopsis
Winter 1859: While exploring the frozen expanse of Lake Champlain, Isabel "Bel" Lindsey and her cousin Laurence hear a hoarse voice call out to them, the voice of a runaway slave.

The teenage children of wealthy Vermont lumber barons, Bel and Laurence decide to hide and aid the runaway. The choice catapults them from their sheltered upbringing into the central issue of their time: slavery and the future of the Union. Wilderness Run recounts their coming of age as it follows America's own loss of innocence after entering the Civil War.

Two years pass and Laurence is a soldier fighting in some of the war's bloodiest battles, while Bel, in the confines of her father's mansion, begins to fall for her French-Canadian tutor, Louis Pacquette-only to see him enlist for the Union. As Laurence and Louis become friends and serve in the same brigade, Bel starts to unravel a painful family secret. The history of family and nation come together when Bel goes to serve as a nurse in Washington, D.C., and after the terrible fires of the Battle of the Wilderness, reunites with the two men who love her.

Featuring vivid characters and visceral war scenes balanced by intimate portraits of domestic life, Wilderness Run is a powerful debut by a gifted young writer.
Reviews
"So many bullets were hitting the stream, it sounded like it was boiling." Maria Hummel has a way with the stuff of battle, turning the horrific sounds, sights and smells into evanescent moments of exquisite lyricism.
Set in the Civil War, "Wilderness Run" (the title refers, ironically, to an idyllic Vermont stream, not the 1864 battle) is a visceral re-creation of inept skirmishes, blood-soaked field hospitals and dysentery-ridden convalescence camps. But it's also a fascinating evocation of the home front, where Bel Lindsey, an adolescent Vermont bluestocking amped up on abolitionist rhetoric, writes dutiful letters to her beloved soldier cousin, Lawrence. Hummel shows us how the war not only wreaks irrevocable changes upon the nation, but also upon these precocious, devoted cousins too.
Growing up on the shores of Lake Champlain, the conspiratorial duo harbored an escaped slave together before the war. Now, on the front lines, Lawrence struggles to maintain his zeal for abolition, Walt Whitman and the Union, while Bel, living amid painted sleighs and parlor dances, unearths a potentially incendiary family secret.
These jolting shifts, from the roar of battle to the quiet intrigues of home, are handled with remarkable ease. Writing of death and drawing rooms with equal aplomb, Hummel has created an utterly devourable historical novel.
-LA Times
When Isabel Lindsey and her cousin, Laurence, encounter a runaway slave near their New England home, it proves to be a turning point in both young people's lives. In two years' time, Laurence is serving as a private in the Union Army, where his upper-class background and tendency to recite poetry make him an outsider among his fellow soldiers. War proves to be the great equalizer, and Laurence acquits himself as a courageous leader amid his hellish surroundings. Isabel remains at home, where, much to Laurence's chagrin, she embarks on a chaste romance with her French tutor, Louis. When the war intensifies, Louis finds himself serving in the same regiment as Laurence. The love triangle comes to a head when the horrors of war bring them all to Washington, and Isabel must not only grapple with the war's gruesomeness but her feelings for both men. This carefully wrought historical novel is rich in period detail that Civil War scholars will certainly appreciate, while its appropriately tragic romance will appeal to those looking for an absorbing read.
-Booklist